Chinavasion's Choice: AGM 5S Android 4.4 Rugged Phone – "Beauty, Brains & Brawn"
Rough and ready while still maintaining a strong and slim figure, this Rugged phone by AGM is like a mix of Sylvester Stallone's body with an Albert Einstein IQ as it is also a very smart rugged phone. Android rugged smartphone appeal to all as they cover all the grounds that most people want, "Beauty, brain & brawn" and that is exactly what you get with this practically designed masterpiece.
Key Features
AGM 5S Rugged Phone – Designed to offer everyone what they want, size, connectivity, intelligence that is in-cased in a tough hulk-like outer.
4G Connectivity – For a super fast and super stable connection.
IP67 Rating – Never let the ingress of water or dust become a problem as this phone is practically indestructible… to a certain degree.
Waterproof, Shockproof, Dust Proof – Read above… Water and dust can get back of the line plus it is shockproof in case you are clumsy when handling it.
5 Inch 1280×720 Display – They say "A picture is worth a thousand words", or in this case 720 based on the resolution.
Android 4.4 Operating System – So much to say about how great this system is.
MSM8926 1.2GHz Quad Core CPU – Pure power when using this phone, more core for the chores.
2 Megapixel Front-Facing Camera + 8 Megapixel Rear Camera – Snap a photo from any angle no matter where you are.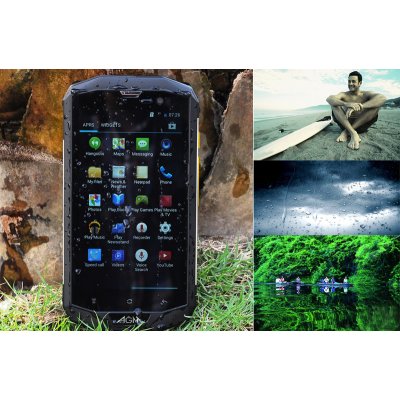 Check out the AGM 5S Android 4.4 Rugged Phone right now!
View previous Chinavasion's Choice products here.