Saving or trying to save a wet phone.
Have you ever dropped your phone in the sink, split a beer on it or even fell into the pits of the watery hell known as the toilet? When this happens your heart skips a beat and you try to quickly save your phone. Blowing on it, rubbing it with a towel, even using a hair dryer. There are a better way that will greatly increase the chances of saving your phone. Here are a few simple steps.

1. Turn the power off. If the power is already off then DO NOT attempt to turn it back on.
2. Take a part the phone gently, basically aim to remove all the components that can be easily removed such as SD cards, SIM cards, battery (Unless you accidentally bought an iPod where you can not remove the battery). Then try to allow as much air to get inside, do not shake it as that may force the trapped water deeper inside.
3. Now you need to find a way to remove the excess water trapped inside. I would recommend trying to 'suck' it out with the aid of a vacuum cleaner that has the extended nozzle pipe. Using the vacuum nozzle around all areas where water may have got trapped such as the mic socket or the charging port. Do not use previous recommendations such as oven, microwave or hairdryer as this uses heat that can melt the circuits finishing off your phone forever.
4. Now it has been to recommend to leave the phone in a bowl of dried uncooked rice as the rice extracts and soaks up any water that maybe left in the phone.
5. Moment of truth is to try out the phone. Ensuring the phone is completely dried out before turning it on. Hopefully it will work and you have saved your phone.

To learn more tips please visit Gizmodo

Chinavasion offers some solutions, one being the Waterproof Case for iPad, iPad 2, new iPad 3, Samsung Galaxy Tab, Tablets.

This amazing waterproof iPad case will keep your device dry without affecting its use. You heard right, this Waterproof case allows full use of your iPad's screen and controls so even in water you can play games, watch movies, go online, and do all the other things you love to do with your tablet! Best of all, this case has been designed to float if dropped in the water, so you can easily find it.
Another option is to purchase this 3G Android phone – the 'AquaPhone', this phone is Water- and Dustproof! Take the 'AquaPhone' outside in the rain or in other areas with potential water hazards without any problems.
The large 4.1inch 800×480 screen in combination with the fast 1Ghz processor will let you enjoy the latest games from the Play Store as well as smooth HD video playback. And never get lost again when you have the AquaPhone on you. Using the GPS and AGPS sensors from the phone, navigation software will easily guide you to your destination.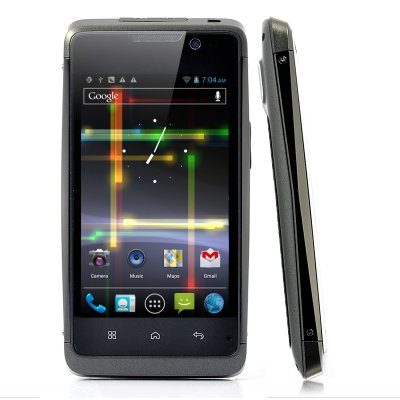 A great option for the clumsy individuals is this Rugged Waterproof Mobile Phone with 2.2 Inch Screen, dual SIM and quad band feature is ideal for serious outdoors use!
This extremely capable phone will work in the toughest environments. Shock resistant, drop resistant and waterproof, this Quad Band 850/900/1800/1900 phone comes equipped with a 0.3 megapixel camera with built-in flash to compensate for poor lighting and allow you to shoot clear pictures anywhere, rain or shine.
Chinavasion even has an alternative choice, this All-Purpose Waterproof, Dustproof, and Shockproof Mobile Phone for use in any outdoor environment. Virtually indestructible, the Fortis outdoors phone is here to stay.
This ultra-durable Fortis mobile phone features an internal hardened magnesium frame and 3.5mm rubberized casing that repels rain, dust, and blunt force, providing the ultimate in real world durability. That means you can drop it, throw it, step it on it, submerge it in water, hit it with a baseball bat, run it over with a jeep, and it'll still come out in perfect shape. So the next time you need a rugged mobile handset on the construction site, while climbing Mount Kilimanjaro, or when swimming across the Gulf of Sidra, look to the Fortis.
At Chinavasion we provide quality android phones that even though are tough are not immune from water damage. Our phones come at a great wholesale price and can be shipped directly anywhere with a 12 month warranty.
Click HERE to see Chinavasion's extensive Android phone range.